Description
argento, macOS Ventura
L'Apple Mac mini con chip Apple M2 è così veloce che puoi fare di più in meno tempo. Dalle presentazioni complesse ai giochi coinvolgenti: con M2 puoi lavorare e giocare in modo assolutamente fluido. La RAM condivisa del Mac Mini può fare di più della RAM convenzionale perché un pool centrale di RAM con elevata larghezza di banda e bassa latenza consente al chip di distribuire più dati in modo più efficiente. Anche la veloce memoria SSD e l'avanzato sistema operativo macOS garantiscono prestazioni di prima classe. A ciò si aggiunge la versatile selezione di porte con supporto per un massimo di due display, rendendo il Mac mini un potente computer desktop nell'iconico alloggiamento da 19,7 x 19,7 centimetri.
Tipo

Sistema MAC

Colore

argento

EAN

0194253142621

Produttore n.

MMFK3D/A

serie

Macmini

Alloggiamento

Fattore di forma

HTPC

processore

Designazione

Apple M2

numero di core della CPU

8 core

Tipo di nucleo 1

Prestazioni, 4 core

Tipo di nucleo 2

Efficienza, 4 core

memoria ad accesso casuale

capacità

In totale

8 GB (inclusi 8 GB installati in modo permanente (integrati))

Archivio dati

Numero

1

Capacità totale

512GB

Archiviazione dei dati 1

capacità

512 GB [SSD]

grafico

Tipo

GPU Apple M2 a 10 core

scheda madre

connessioni

grafico

1 uscita HDMI

Periferia

2x USB-A 2.0, 2x Thunderbolt 4

rete

1x RJ-45

Audio

connessioni

1x cuffia

particolarità

Altoparlante integrato

Connettività

LAN

LAN 10/100/1000 MBit/s

ACCESSO A INTERNET SENZA FILI

Wi-Fi 6E

Bluetooth

Bluetooth5.3

adattatore di alimentazione

tipo di progettazione

interno

Prestazione

150 watt

sistema operativo

Mac OS

Ulteriori informazioni

Motore neurale a 16 core |

 

Larghezza di banda di archiviazione 100 GB/s |

 

Motore multimediale: H.264, HEVC, ProRes e ProRes RAW con accelerazione hardware;

 

Motore per la decodifica video;

 

Motore per la codifica video;

 

Motore per la codifica e decodifica ProRes |

 

Supporto simultaneo per un massimo di due display

Accessori

disponibile

Cavo di alimentazione

Dimensioni

Larghezza: 197 mm x Altezza: 35,8 mm x Profondità/Lunghezza: 197 mm

Peso

1,2 kg
Payments and Security
Payment methods
Your payment information is processed securely. We do not store credit card details nor have access to your credit card information.
---
Security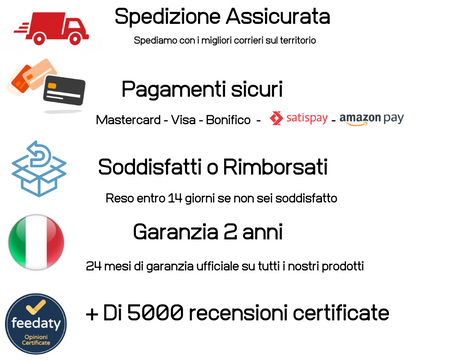 Could it be interesting for you