Description
Nero/trasparente, Windows 11 Home 64 bit
L'MJSI MAG Infinite S3 13NUB7-1205AT nasce con l'obiettivo di fornire la migliore esperienza di gioco, unendo prestazioni e innovazione. Le ampie aperture di ventilazione garantiscono una buona circolazione dell'aria e prevengono il surriscaldamento, mentre l'illuminazione Mystic Light RGB personalizzabile fa brillare il sistema. Un processore Intel® Core™ i7-13700F, 32 gigabyte di RAM DDR5 e una NVIDIA GeForce RTX 4060 Ti con 16 gigabyte di memoria video GDDR6 garantiscono le migliori esperienze di gioco. L'SSD da 1 terabyte carica i giochi in pochi secondi e offre molto spazio per archiviare i dati. È possibile collegare un'ampia varietà di dispositivi periferici tramite HDMI, DisplayPort nonché diverse porte USB e Bluetooth 5.2. Grazie alla Gigabit LAN e al Wi-Fi 6, anche il MAG Infinite S3 è ben connesso.
Tipo

PC da gioco

Colore

nero/trasparente

EAN

4711377129893

Produttore n.

00B93841-1205

serie

MAG Infinito S3 12°

Alloggiamento

Alloggiamenti per unità

3,5" esterno

1

2,5" interno

2

Fattore di forma

Torre media

Kit finestra disponibile

SÌ

processore

Designazione

Intel®Core™i7-13700F

numero di core della CPU

16 core

Numero di thread

24

tatto

Aumenta il clock a 5,2 GHz

Tipo di nucleo 1

Prestazioni, 8 core

tatto

Orologio base 2,1 GHz, orologio boost 5,1 GHz

Tipo di nucleo 2

Efficienza, 8 core

tatto

Orologio base 1,5 GHz, orologio boost 4,1 GHz

Tipo di presa

1700

Chipset

Intel®H610

memoria ad accesso casuale

capacità

In totale

32 GB (inclusi 32 GB integrati)

massimo supportato

DDR5 da 64 GB (inclusi 64 GB sostituibili)

Tipo

DDR5 (4800 MHz)

Slot di memoria

2 banchi di memoria di cui occupano 2 banchi di memoria

Archivio dati

Numero

1

Capacità totale

1 TB

Archiviazione dei dati 1

capacità

1 TB [M.2, tramite PCIe 3.0, SSD]

grafico

Designazione

MSI GeForce RTX 4060 Ti VENTUS 2X NERO 16G OC

Tipo

NVIDIA GeForce RTX 4060 Ti

Magazzinaggio

In totale

16GB (GDDR6)

di quella

integrato: 16 GB

connessioni

3x DisplayPort (versione DisplayPort: 1.4a), 1x HDMI (versione HDMI: 2.1a)

scheda madre

connessioni

grafico

1x VGA, 1x uscita DisplayPort (versione DisplayPort: 1.2), 1x uscita HDMI (versione HDMI: 1.4)

Periferia

4x USB-A 2.0, 3x USB-A 3.2 (5 Gbit/s), 1x USB-C 3.2 (5 Gbit/s), 1x PS/2

rete

1x RJ-45

Un avviso:

La denominazione USB 3.2 Gen 1 corrisponde alle precedenti denominazioni USB 3.1 Gen 1 o USB 3.0.

Interfacce

1x M.2

Unità ottiche

Tipo

non disponibile

Audio

connessioni

1 microfono, 1 ingresso linea, 2 uscite linea, 1 cuffia

Chipset

Realtek ALC897

particolarità

Audio HD a 7.1 canali

Connettività

LAN

LAN 10/100/1000 MBit/s

Chipset

Intel I219-V

ACCESSO A INTERNET SENZA FILI

Wi-Fi 3 (802.11a), Wi-Fi 3 (802.11b), Wi-Fi 3 (802.11g), Wi-Fi 4 (802.11n), Wi-Fi 5 (802.11ac), Wi-Fi 6 ( 802.11ax)

Chipset

INTEL/AX210.NGWG.NV

Bluetooth

Bluetooth 5.2

adattatore di alimentazione

tipo di progettazione

interno

Prestazione

500 watt

Certificazione

Bronzo 80 PLUS

illuminazione

Alloggiamento

RGB

sistema operativo

Microsoft Windows 11 Home a 64 bit

Ulteriori informazioni

Cassa da 32 litri

Avviso

Illuminazione Mystic Light RGB

Dimensioni

Larghezza: 17,38 cm x Altezza: 40,717 cm x Profondità/Lunghezza: 44,697 cm

Peso

7,7 kg
Payments and Security
Payment methods
Your payment information is processed securely. We do not store credit card details nor have access to your credit card information.
---
Security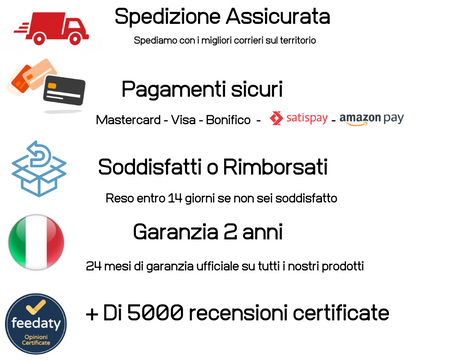 Could it be interesting for you