Description
I processori desktop Intel® Core™ di quatordicesima generazione chiamati Raptor Lake-S hanno introdotto un nuovo layout di chip con CPU core diversificate per diversi scenari applicativi. I Performance Core garantisce prestazioni in applicazioni ad alta intensità di calcolo, mentre gli Efficiency Core garantisce l'efficienza energetica con bassi bassi. I processori Raptor Lake-S supportano PCIe Gen 5.0 e 4.0, DDR5 e DDR4. Il processore è compatibile con la scheda madre basata sul chipset Intel® 700 e 600.
Tipo

CPU

EAN

5032037278461

produttori n.

BX8071514600KF

Tipo di CPU

Nucleo i5

base

1700

Max. versione PCIe supportata

5.0

nucleo

Designazione

Core i5 14xxxKF (Raptor Lake-S)

Numero

14 nuclei

discussioni

20

Tipo di nucleo 1

Prestazioni, 6 core, 12 thread

Frequenza dell'orologio

Base orologio 3.500 MHz, orologio boost 5.300 MHz

Tipo di nucleo 2

Efficienza, 8 core, 8 thread

Frequenza dell'orologio

Base orologio 2.600 MHz, orologio boost 4.000 MHz

Sbloccato

SÌ

Microarchitettura

Raptor Lake-S

Cache

Livello 2: 20480 KB, Livello 3: 24576 KB

fan

Nessun fan incluso

Controllo dell'archiviazione

Supporto standard

fino a

DDR4-2133, DDR4-2400, DDR4-2666, DDR4-2800, DDR4-2933, DDR4-3000, DDR4-3200, DDR5-4800, DDR5-5600

grafico

GPU

Senza grafica della CPU

Consumo energetico (TDP)

125 watt

consumatore energetico massimo (TDP)

181 watt

Avviso

Versione boxata senza dissipatore 
Payments and Security
Payment methods
Your payment information is processed securely. We do not store credit card details nor have access to your credit card information.
---
Security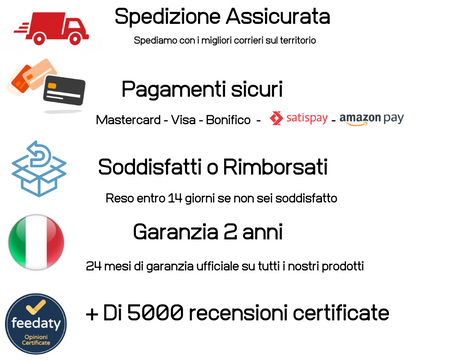 Could it be interesting for you