Description
Nero/trasparente, Windows 11 Home 64 bit
Il Thermaltake Amalthea Black è un potente PC da gioco in un elegante case a telaio aperto con due pannelli laterali trasparenti che consentono una visione dell'imponente interno illuminato RGB da entrambi i lati. Dotato di un processore Intel® Core™ i7-12700F a dodici core, una veloce RAM Thermaltake Toughram XG RGB DDR4 da 16 GB e una scheda grafica NVIDIA GeForce RTX 3070 con memoria grafica GDDR6 da 8 GB, questo PC fa battere forte il cuore dei giocatori. L'SSD Samsung 970 EVO Plus da 2 TB garantisce l'avvio di programmi e sistemi in tempi record e offre inoltre molto spazio per la memorizzazione dei dati. L'Amalthea Black è collegabile in rete tramite Gigabit LAN e varie porte consentono anche la connessione di più display e un'ampia gamma di dispositivi periferici.
Tipo

PC da gioco

Colore

nero/trasparente

EAN

4713227533768

Produttore n.

PC-000005-DE

serie

Giove

Alloggiamento

Designazione

Thermaltake AH T200

Alloggiamenti per unità

3,5" interno

2

2,5" interno

3

Fattore di forma

Torre media

Ventole del case esistenti

2 pezzi.

Designazione del ventilatore

Puro 14 ARGB

Kit finestra disponibile

SÌ

processore

Designazione

Intel®Core™i7-12700F

numero di core della CPU

12 Core

Numero di thread

20

tatto

Aumenta il clock a 4,9 GHz

Tipo di nucleo 1

Prestazioni, 8 core

tatto

Orologio base 2,1 GHz, orologio boost 4,8 GHz

Tipo di nucleo 2

Efficienza, 4 core

tatto

Orologio base 1,6 GHz, orologio boost 3,6 GHz

Tipo di presa

1700

Dispositivo di raffreddamento della CPU

Thermaltake TH240 Nero ARGB raffreddamento ad acqua

Chipset

Intel®H610

memoria ad accesso casuale

Designazione

Thermaltake Toughram XG RGB

capacità

In totale

16 GB (inclusi 16 GB integrati)

massimo supportato

DDR4 da 64 GB (inclusi 64 GB sostituibili)

Tipo

DDR4 (3600 MHz)

Slot di memoria

2 banchi di memoria di cui occupano 2 banchi di memoria

Archivio dati

Numero

1

Capacità totale

2 TB

Archiviazione dei dati 1

capacità

2 TB [M.2, tramite PCIe, SSD]

velocità

Lettura: 3500 MB/s, Scrittura: 3300 MB/s

Designazione

Samsung 970 EVO Plus

grafico

Tipo

NVIDIA GeForce RTX 3070

Magazzinaggio

In totale

8GB (GDDR6)

di quella

integrato: 8 GB

connessioni

3x DisplayPort (versione DisplayPort: 1.4), 2x HDMI (versione HDMI: 2.1)

scheda madre

Designazione

ASUS Prime H610M-A D4

connessioni

grafico

1x VGA, 1x uscita DisplayPort, 1x uscita HDMI (versione HDMI: 2.1)

Periferia

4x USB-A 2.0, 2x USB-A 3.2 (5 Gbit/s), 1x PS/2

rete

1x RJ-45

Un avviso:

La denominazione USB 3.2 Gen 1 corrisponde alle precedenti denominazioni USB 3.1 Gen 1 o USB 3.0.

Slot

1x PCIe x1 (versione 3.0), 1x PCIe x16 (versione 4.0)

Interfacce

2xM.2, 4xSATA

Unità ottiche

Tipo

non disponibile

Audio

connessioni

1 microfono, 1 ingresso linea, 1 uscita linea

Chipset

CODEC audio ad alta definizione Realtek 7.1 Surround Sound

Connettività

LAN

LAN 10/100/1000 MBit/s

adattatore di alimentazione

Designazione

Thermaltake ToughPower GF2 750 Watt ARGB Oro

tipo di progettazione

interno

Prestazione

750 watt

Certificazione

80 PIÙ oro

Raffreddamento ad acqua

SÌ

illuminazione

Dispositivo di raffreddamento della GPU

RGB

memoria ad accesso casuale

RGB

adattatore di alimentazione

RGB

Fan

RGB

sistema operativo

Microsoft Windows 11 Home a 64 bit

Informazioni aggiuntive

I dati di ripristino del sistema operativo non devono necessariamente essere contenuti sotto forma di supporto dati, ma possono anche essere preinstallati sul disco rigido.

 

I sistemi PC con un sistema operativo Microsoft Windows preinstallato potrebbero non essere compatibili con versioni precedenti di Microsoft Windows e sistemi operativi alternativi.

Dimensioni

Larghezza: 28,2 cm x Altezza: 44,42 cm x Profondità/Lunghezza: 55,15 cm
Payments and Security
Payment methods
Your payment information is processed securely. We do not store credit card details nor have access to your credit card information.
---
Security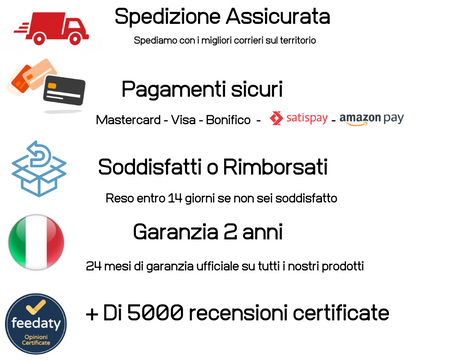 Could it be interesting for you