Description
nero/trasparente, Windows 11 Home 64 bit
Il Thermaltake Hyperion V2 Black è un potente PC da gioco con raffreddamento ad acqua, il cui case Midi Tower nero con vetro temperato permette di vedere il suo impressionante interno illuminato RGB. Dotato di un processore Intel® Core™ i5-13600KF a 14 core, veloce Thermaltake TOUGHRAM da 32 GB L'SSD Samsung 980 Pro da 1 TB garantisce l'avvio di programmi e sistema in tempi record e offre inoltre molto spazio per la memorizzazione dei dati. L'Hyperion V2 Black è compatibile con la rete tramite LAN da 2,5 gigabit e Wi-Fi 6, e varie porte consentono la connessione di più display e un'ampia varietà di dispositivi periferici.
Tipo

PC da gioco

Colore

nero/trasparente

EAN

4713227538817

Produttore n.

PC-000028-DE

Alloggiamento

Designazione

Divisore Thermaltake 370 TG ARGB

Alloggiamenti per unità

3,5" interno

2

2,5" interno

2

Fattore di forma

Torre media

Ventole del case esistenti

3 pezzi

Kit finestra disponibile

SÌ

processore

Designazione

Intel®Core™i5-13600KF

numero di core della CPU

14 core

Numero di thread

20

tatto

Aumenta il clock a 5,1 GHz

Tipo di nucleo 1

Prestazioni, 6 core

tatto

Orologio base 3,5 GHz, orologio boost 5,1 GHz

Tipo di nucleo 2

Efficienza, 8 core

tatto

Orologio base 2,6 GHz, orologio boost 3,9 GHz

Tipo di presa

1700

Dispositivo di raffreddamento della CPU

Sincronizzazione ARGB Thermaltake TH360

Chipset

Intel®Z690

memoria ad accesso casuale

Designazione

Thermaltake TOUGHRAM XG RGB

capacità

In totale

32 GB (inclusi 32 GB integrati)

massimo supportato

DDR5 da 128 GB (inclusi 128 GB sostituibili)

Tipo

DDR5 (5600 MHz)

Slot di memoria

4 banchi di memoria di cui 2 occupati

Archivio dati

Numero

1

Capacità totale

1 TB

Archiviazione dei dati 1

capacità

1 TB

velocità

Lettura: 7000 MB/s, Scrittura: 5000 MB/s

Designazione

Samsung980Pro

grafico

Tipo

NVIDIA GeForce RTX 4070 Ti

Magazzinaggio

In totale

12GB (GDDR6X)

di quella

integrato: 12GB

connessioni

3 DisplayPort, 1 HDMI

scheda madre

Designazione

ASUS PRIME Z690-P WIFI

connessioni

grafico

1 uscita DisplayPort, 1 uscita HDMI

Periferia

2x USB-A 2.0, 2x USB-A 3.2 (5 Gbit/s), 1x USB-C 3.2 (10 Gbit/s), 1x USB-C 3.2 (20 Gbit/s)

rete

1x RJ-45

Un avviso:

La denominazione USB 3.2 Gen 1 corrisponde alle precedenti denominazioni USB 3.1 Gen 1 o USB 3.0.




La denominazione USB 3.2 Gen 2 corrisponde alle precedenti denominazioni USB 3.1 Gen 2 o USB 3.1.

Slot

1 PCIe x1, 4 PCIe x16

Interfacce

3 M.2, 4 SATA

Unità ottiche

Tipo

non disponibile

Audio

connessioni

1 microfono, 1 ingresso linea, 3 uscite linea, 1 uscita ottica

Chipset

Audio HD con audio surround Realtek S1220A 7.1

Connettività

LAN

LAN 2,5 Gigabit

ACCESSO A INTERNET SENZA FILI

Wi-Fi 6 (802.11ax)

Bluetooth

Bluetooth 5.2

adattatore di alimentazione

Designazione

Thermaltake ToughPower GF3 850W

tipo di progettazione

interno

Prestazione

850 watt

Certificazione

80 PIÙ oro

Raffreddamento ad acqua

SÌ

illuminazione

scheda madre

RGB

memoria ad accesso casuale

RGB

Dispositivo di raffreddamento della CPU

RGB

Fan

RGB

sistema operativo

Microsoft Windows 11 Home a 64 bit

Informazioni aggiuntive

I dati di ripristino del sistema operativo non devono necessariamente essere contenuti sotto forma di supporto dati, ma possono anche essere preinstallati sul disco rigido.

 

I sistemi PC con un sistema operativo Microsoft Windows preinstallato potrebbero non essere compatibili con versioni precedenti di Microsoft Windows e sistemi operativi alternativi.

Dimensioni

Larghezza: 22,03 cm x Altezza: 49,1 cm x Profondità/Lunghezza: 46,91 cm
Payments and Security
Payment methods
Your payment information is processed securely. We do not store credit card details nor have access to your credit card information.
---
Security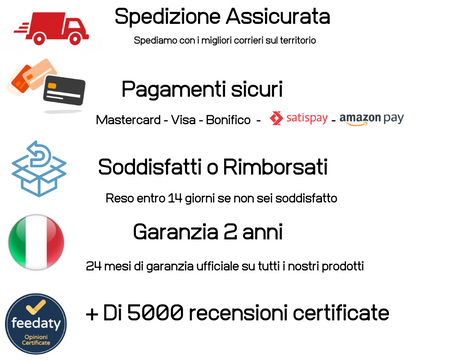 Could it be interesting for you